With the future of America's independent restaurants and cafes at stake, small business owners have had to quickly adapt and respond to the challenges presented in the unprecedented time of COVID-19. Many restaurants and cafes have closed their doors, some hunkering down to weather the storm and others forced to close permanently. And while some small business relief trickles down from the federal government, many say it is inadequate to salvage the food industry as we know it. It is estimated that 30% of businesses won't come back online when restrictions lift.
On the bright side, independent coffee shops have responded with positive alterations to their retail operations; adapting to the "general store" model not only keeps their business running but adds new value for their customers who are now dependent on local commerce. Agile coffee shops have rapidly forged new local connections to supplement their inventory, offered new homemade products and updated portions to invigorate their businesses and by delivering new value to their local community.
Looking to go beyond the basic set of provisions, Go Get Em Tiger in Los Angeles have been determined to make new connections and broaden their inventory. After reaching out to a range of farms surrounding the city, Go Get Em Tiger eventually struck up a relationship with County Line Harvest, a specialty produce farm east of the city. The cafe now stocks a range of fresh, high quality produce, much of which was previously sold to restaurants through wholesale channels. Go Get Em Tiger have been using their walk-in fridges to help preserve perishables, publishing a weekly illustration with a playful sketch showing latest stock.
Noticing the rise in home-baking, Go Get Em Tiger ordered in industrial-sized bags of flour, dividing them into smaller individual portions for household consumption. As a measure of delight, they have even been able to make a chocolate recipe that's been discussed for years - hello to 61% Valrhona chocolate made with homemade sunflower butter, salted caramel hazelnut and toffee-toasted crispy rice. Hello to the shortcomings of lockdown.
"We couldn't be in crisis mode the whole time. This was going to be how we operate for a longer time than we had truly accepted before" said owner Kyle Glanville in a recent SCA webinar on how coffee has been getting into grocery, "And so we started to consciously put ourselves into the shoes of our customers and think about what their needs were and what levers were at our disposal to meet, or hopefully exceed, those needs."
400 miles up the 1 in San Francisco, Ritual Coffee Roasters has also made the crucial shift to retail, adding inventory to their shelves in their shop on Valencia Street. Since social distancing became the priority, the cafe's entranceway was distanced with a screen, establishing cock-pit from which cashiers can receive orders before grabbing inventory from an area normally reserved for seating. Founder Eileen Hassi Rinaldi started small, looking to friends who had basic products that had general use. Bread from Le Dix-Sept now shares the shelf with granola from Nana-Jones and the "highly coveted" Cloud of Protection hand sanitiser. Ritual's own coffee beans saw an increase in demand - the 5lb bags normally reserved for use by Ritual's own baristas became an item with a price tag.
As it turns out, Ritual was embracing the heritage of their Valencia venue, which functioned as a general store in the early twentieth century. Hassi Rinaldi herself grew up working at the Rye Country Store in New York, a community landmark that has been continuously operating since the 1940s. In the time of COVID-19, these two histories came together.
In Chicago, coffee shop owner Kate Vrijmoet has found extraordinary success by embracing the general store model at her venue, necessary & sufficient coffee. "When the needs of our community shifted because of coronavirus, I had to ask how I could be of service to these neighbors," said Kate who opened the cafe in September 2019. "After all, they're my community." In addition to carrying grocery staples such as milk, eggs, butter, and flour, the cafe now sells weekly produce boxes. Like Go Get Em Tiger, Kate has partnered with the local farms which supplied many now-shuttered Chicago restaurants to offer customers high-quality meats.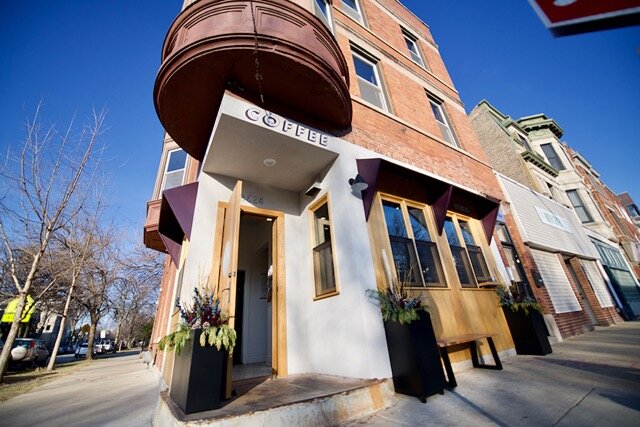 By offering bigger ticket items such as grocery items, wholesale coffee beans, and home-brewing equipment, necessary & sufficient has actually seen sales increase. "I'm able to continue to pay my workers and fill in most of the revenue gaps," said Kate. She has even been able to offer expanded benefits to employees: EAPs, 401ks, and soon, health insurance. Amazingly, business volume has increased overall, a near-miracle in times when so many small businesses face closure and bankruptcy.
The economic disruption of the coronavirus pandemic cannot be overstated, with the hospitality industry taking the greatest hit. Food service workers made up 60% of the initial 701,000 unemployment claims filed in mid-March, with the total number of claims over the past six weeks rising to 30.3 million. The current crisis has forced society as a whole to reimagine every aspect of how we live our lives. However, to quote Kate: "Trauma can be a good teacher. And I think we're going through some collective trauma right now as a culture."
The successful efforts on the part of these coffee shops to adapt to our new reality shows that it isn't all doom and gloom: local businesses are still invaluable on Main Street.
More arcticles covering Specialty Coffee and Grocery Retail