Published at the start of 2014, the 207-page The Good Jobs Strategy from MIT Sloan School of Management adjunct associate professor Zeynep Ton serves now, five years later, as a prophetic primer for the business world. In addressing decision makers from executives to middle managers and supervisors, Ton outlines the next opportunity for frontline workforce management and how related factors to do with environment, equipment and operations each help improve a business's bottom line. Yet even more, The Good Jobs Strategy shows how a more sophisticated approach to workforce management considers low-wage workers as an asset not merely a cost. With correct strategy, retail businesses can position their labor to function symbiotically with a lucrative and sustainable future.
Following the format of most business books, Ton's contribution is arranged first as the proposition of an overall thesis, followed by a series of chapters that lean on case studies to illustrate examples. Beneficent, smart "model employers" are those that position human capital as part of their growth strategy, set against companies that deliver a bad jobs strategy and ignore opportunities to standardize, empower, cross-train and decide once and for all that holding less inventory adds more value. On workforce allocation, failing to allow employees the on-shift slack to get better at their jobs means that individuals will, inevitably, always do a bad job until they quit.
A range of companies are mentioned, each organisations that rely heavily on their frontline workforce to deliver their service. Most companies will be familiar to international audience, behemoths such as Walmart, Toyota and Chipotle. More discreet organisations that put forth gleaming good jobs strategy are Mercadona, a supermarket in Spain, and the regional QuikTrip, which has locations in a dozen southern states in the U.S.. Ton's commitment to brick-and-mortar retail is timely given the sector's slow cannibalisation by online retail. This selection points to one salient admission: physical retail isn't going away, and we need to dissociate cheap retail with low pay.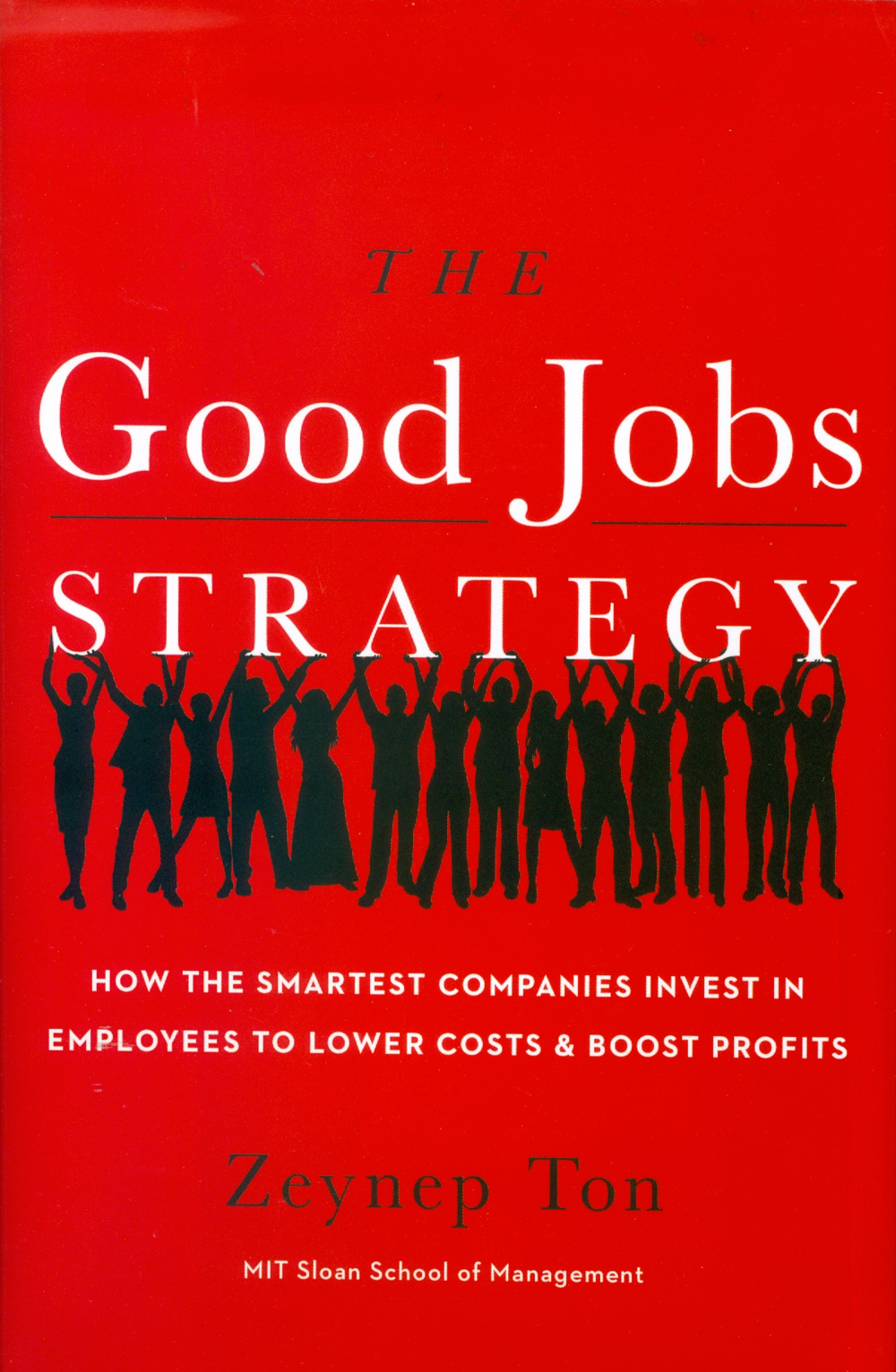 The assumption that a low-wage is necessary to keep costs down serves as Ton's departure point. One of the professor's interviewees is Janet Patty, an employee at QuikTrip who earns $70,000 per year. After learning about her daily practices, how Janet has progressed within the organisation, Ton notes "… you could think she was a sales assistant at a high-end department store or helping customers find designer clothes while a pianist plays in the background. Or perhaps she is a manager at a medical supply store helping people find the right wheelchair or a coffee cup they can hold with a hand weakened by a stroke."  This patently isn't the case - Janet is simply given a firm platform on which to success through QuikTrip, and her loyalty has paid off.
Getting operations right is vital, and serves as the key characterisation of Ton's total analysis. Between inventory, scheduling and training, model employers can position themselves to cover the swath of problems that normal crumble shop floors and customer experience. Ton is frank, "It's not that customers do not like to be smiled at or treated nicely. But kindness or friendliness won't make up for operational incompetency. It's hard for a grocery store to make you happy if it repeatedly doesn't have what you came in for, or if the checkout line is often long and slow, or if you get home and find that the eggs you just bought have already expired." Far from the superficiality often associated with good service, Ton is aware that a frontline member of staff can only do so much if the backroom is in disarray.
Yet Ton's sharp analysis doesn't ignore the realities of organisational change. In using the example of the Toyota assembly line and how other automative companies like Acme Auto couldn't easily replicate, she recalls a tiny moment during one of her tours of a Toyota facility, "… it started with the little things the managers did as they showed our group of professors around. When we left the conference room, they erased the boards and put the chairs back where they belonged." This idea of "overacting" to produce processes with sharp edges is striking, providing plenty of nuance for operations and service designers to chew on.
For a novice to the business of retail, The Good Jobs Strategy introduces a small selection of terms, also adding vocabulary to those who wander shop floors in disdain when items are out of line. To offer "slack" is to staff a shift with enough employees to do the work required, then including additional headcount to ensure that all tasks can be done to allow for time on the side for learning about inventory, product location and, in retail, helping a customer completely. "Phantom stockouts" occur when a product is not visible on the shop floor or in the stockroom, but does indeed exist somewhere at the outlet. Meanwhile "safety stock" is the inventory used to replace the on-shelf inventory, an amount which escalates greatly according to the number of unique products on the store. For example, a safety stock quota of 10 for one product could be sufficient until the next delivery arrives. Whereas a store that has merely one of each product as backup hasn't a great buffer if one customer arrives and makes a swoop of one of the 10 product variants, so their surplus stock per item needs to increase dramatically in terms of number of units.
Given the sensitive subject matter of how the U.S. business world interacts with low-wage workers, Ton does well to keep language close to business. At one point the overarching philosophy for employers is poetically referred to as if "One could say that [the model employer] puts itself in the employees' hands, then does its best to make sure those hands are strong, skilled and caring." Generally though, the gradual dissemination of good business analysis generates the backbone of the book.
What comes through in The Good Jobs Strategy is Ton's handling of operations as the foundation to any business where service plays a significant role. With evidently easy alternatives of purchasing online, the human-face of retail is as important as the efficiency of the retailer's organs.  In a world converging around the attention economy, Ton is spot on - the humanity of stores provides the greatest variable, from customer service to the inventory legibility. Furthermore, beyond the business agenda of the book, The Good Jobs Strategy provides hope that retail can continue provide curation and play a communitarian role in society, as well as an uplifting, flexible place to work.
Find the book and more about Zeynep Ton at zeynepton.com