The inaugural Brewers Cup Germany took place in South Germany early in June, Nuremberg at Rösttrommel Roastery. This two-day event hosted coffee lovers from all over Germany, coming together to share their knowledge and experiences in the world of coffee.
16 participants registered and participated in a brewing round with the Compulsory Coffee. Out of the 16 participants, six reached the final: Luthfan Satrio Pradipto, Fabian Vandrey, Anthony Piper, Farhan Irfanto, Nicole Battefeld-Montgomery and David Maneke.
Later on the Saturday, there was a barista party in which participants were asked to decipher the origin and process between six different coffees. They then ground the coffee in a mortar and pestle, creating a fun mini-presentation. Later that day the atmosphere of the roastery turned into a party, where DJs played for the entertainment of the attendees.
Day 2 of the event entailed a roasting course held by Kilian Sager who holds the title of 'National Roaster Champion 2018'. The courses' proceeds were donated to Caritas Wien for aid to Ukraine. The Sunday also featured Johannes Otto who is the current National Latte Art Champion. Johannes performed a latte art show presenting his skills and later on this year will be representing Germany in Milan World Coffee Championships at the end of June.
The finale's theme consisted of blending a mixture of two or more coffee grinds, aiming to achieve a perfect brew. The participants used a variety of different methods, incorporating a sweeter blend of coffee containing a lower acidity mixed with a bitter blend and higher acidity to create the perfect balance. The winning blend was a mix of Geisha and Red Bourbon by Champion Nicole Battefeld-Montgomery for the second year in a row, who will be competing in Australia's World Cup, 2023.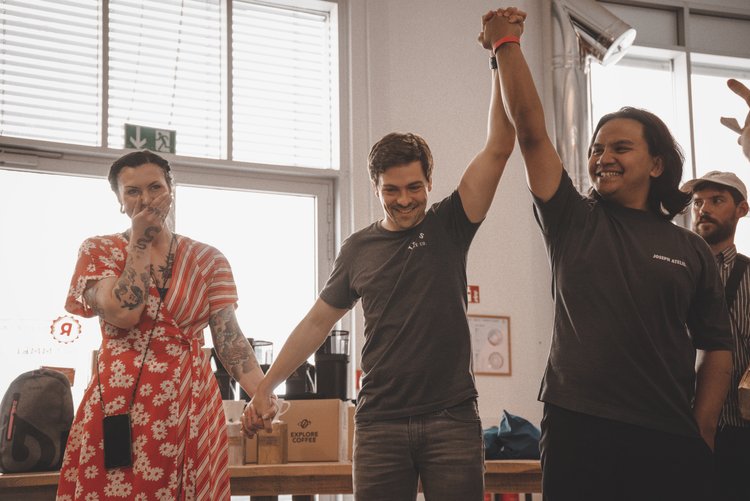 Luthfan Satrio Pradipto held second place in the contest and used a mixture of three different blends. This particular contest opened my eyes to experimenting more with blends from around the world. This would open doors to different countries and processes in specialty coffee in which there is still more to learn. Although there have always been a wide variety of different blends, companies tend to have a staple product for their customers. However, the trend of coffee is taking a different direction and I think it is time for all of us to jump on the blending bandwagon.
In conclusion, I think these events are a great meeting point for the German coffee scene and help to inform us about new trends in the world of speciality coffees.
The next event in Germany will be at the Frankfurt Coffee Festival from 14th -16th of October 2022.
Thank you to Melanie Weldert for contributing this event summary