A new book from journalist and Bendable Labs founder Rick Wartzman charts the development of employee management at Walmart. In researching Still Broke: Walmart's Remarkable Transformation and the Limits of Socially Conscious Capitalism, Wartzman is given unprecedented access to Walmart employees to synthesize all perspectives. The 270-page book paints a detailed picture of America's largest employer, a comprehensive audit of executive, associate and unionist viewpoints, the type of tempered assessment not normally found in columned inches.
As for structure, Still Broke naturally begins with the charisma and ceaseless energy of Walmart's founder, Sam Walton, before outlining the contributions of several CEOs to the present day and current head, Doug McMillon. Also from Arkansas, McMillon had crossover with Walton in the early 1990s immediately after completing his MBA in Tulsa, Oklahoma. McMillon started full-time at Walmart during his MBA, working 50-hour weeks as an assistant general manager as a store near campus.
The 61-year span of Walmart and its scale uniquely position the company to capture a dynamic sweep of American economic history. What began as post-World War Two abundance with productivity and wage growth faded into stagnation from the early 1970s. This narrative is quantified at the end of Still Broke. According to the Economic Policy Institute, between 1979 and 2020, American productivity grew by 60%, yet average wages during the same period increased by only 18%.  
From RAND Corporation, Wartzman cites another analysis: in 2020, the annual median income is $50k. Had the dividend from American growth been shared as equitably from 1970s as it had done from WW2 to 1969, median income would be $100k today. This would also dramatically benefit the lowest earners who would be paid $61k each year, not $33k. The bottom 90% of earners would bring in $2.5T total annual income.
Walmart's malfeasance is brought to account from 2004 by an assortment of activist groups and campaigns. Service Employees International Union (SEIU), Walmart Watch, United Food and Commercial Workers (UFCW) each present their cases against Walmart, destabilizing a relative peace. Walmart's low wage, unpredictable scheduling and understaffing resulted in class action law suits, international child labor concerns and dropping standard - trials that one CEO admits are inevitable for a company operating at such massive scale.
Though there are positive signals through the Hurricane Katrina response in 2005, the company reaches a nadir during the end of the 2000s. A walk-in by retail expert Walter Loeb serves as a litmus test - an empirical account of Walmart's poor merchandizing is published by Loeb. The same observations are reflected in the company's commitment to staff allocation - there were on average 338 employees per store in 2007, then just 281 by 2013.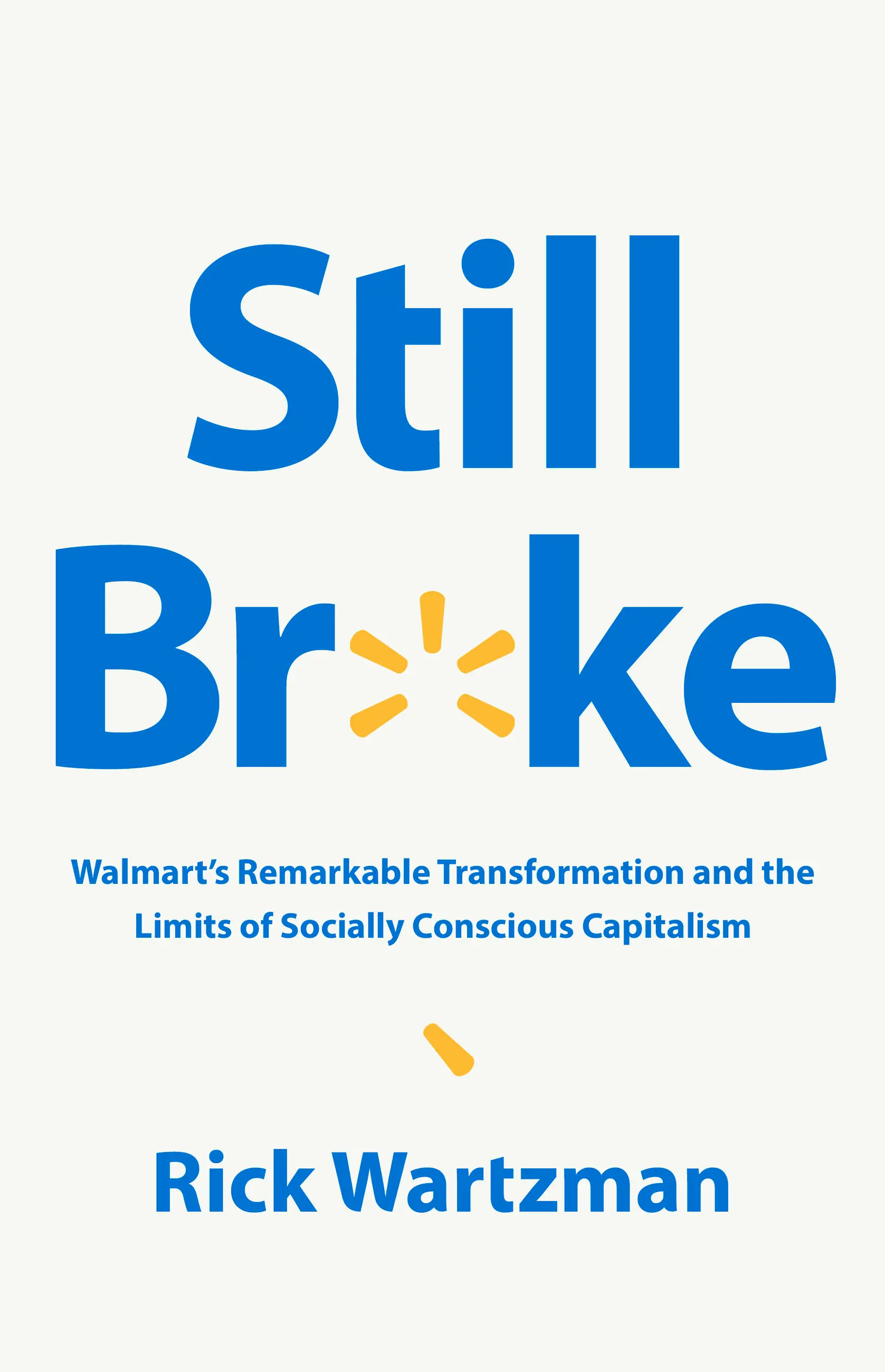 Transformation becomes pronounced in 2014 with a series of hires under McMillon's watch. The likes of Gayatri Agnew, Maureen Conway (Aspen Institute) and Kathleen McLaughlin (McKinsey) join Walmart to "rethink the complexion of frontline work." On February 13th 2015, Walmart announced that associate pay would be $9 from April of that year, then $10 by early 2016. 500,000 workers would see a pay rise, a momentous decision which hadn't taken place since Walmart's founding 53 years prior. A new associate that completes the mandatory Pathways Training program could then expect $10 per hour.
Still Broke is rich in detail. In referencing an exchange between Walton and McMillon in the early 1990s, Wartzman describes a morning when McMillon found a note from the founder on his desk. Walton had spotted a cheaper fishing line at a competitor and encouraged McMillon to seek out a better price from their supplier. Cost cutting is also reflected by associates bringing in their own stationery to save the company dollars.
Diction also helps to color Still Broke. In quoting Brookings' Katie Bach, "no one of influence was beating the drum for a good wage." Byron Auguste of Opportunity@Work is also quoted "What are the jobs we blithely assume anyone can do?" A Walmart ops manager enters stores as an undercover associate, concluding with the observation that for all the flaws of frontline work at Walmart, it can be a "safe haven for those whose lived were roiled by conflict and violence in their neighborhood and household." There are "shards of truth" in Sam Walton agenda, and Milton Friedman dictum to maximize shareholder value the "dogma" of business.
With the average Walmart wage still at $29,000 a year, McMillon and his team have work yet to do.
Find out more about Still Broke at publicaffairsbooks.com